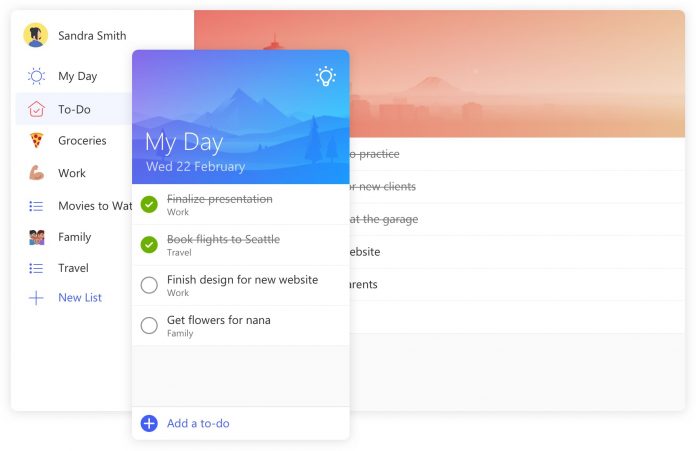 It has been a while, well it's around 4 years for me to find and try out to see what is the best to do list app for me. Finally, I've found Microsoft To-Do is the best one that fits my requirements.
You know what, finding out the best fit personal task management is a pretty difficult job; even there are a lot of task management applications and services on Internet.
When picking up a software for personal taste, I always try to define my requirements beforehand. And that's where Microsoft To-Do takes a win for me.
Features of a to do list app.
So, in this case here're what I expect:
1. It should be an individual-focused task management style app.
So it's like a personal tracking or task management app for individual.
In simple words, it should be called like a to do app.
Minimal and clean user interface.
Good UX, it should not be hard to use.
Can create repeating tasks. Since it's for personal use, that means there are a lot of repetitive tasks daily, weekly or monthly or any pattern.
Can alert and remind me about due date. Well, it is pointless if this feature is not implemented. I can rather use a text file and Notepad to list up tasks.
If you take a look at Microsoft To-do, it does this job seriously well. I can say anything more.
2. It should allow to create repeating tasks.
Certainly, I have a lot of tasks that need to complete once; but there are more tasks being taken repetitively daily, weekly and monthly.
Some example for my repeating tasks:
learn something new at every weekend.
go to shopping mall every 5th and 20th day of the month. Curious why 5th and 20th? Well, in my local area, they provide discount 5% for membership.
track my pages' stats daily (including this page also)
…etc

If you take a look at Microsoft To-Do to see how they implement this feature. It's pretty good, clean and very easy-to-use.
3. It should run on many platforms.
It is pointless to use a to do app that only works on a single platform. It should work on both PC and mobile platforms.
Additionally, I'm a software developer, I work on many desktop platforms like Windows, Linux and Mac; so I prefer the to do list app should work on those.
However, at the moment, Microsoft To-Do only supports for Web, Windows, Android and iOS. So there is no native distribution for Linux and Mac.
But I can use Web version for now.
As I track on Microsoft To-Do feedback, they've been working on Mac implementation for a year and still no result yet.
I have absolutely no idea but a lot of users are waiting for it.
4. It should be free completely.
Yes, it should be free, and Microsoft To-Do is free for anyone.
Well, because it is given for free so I can't ask for more if they decide not to work on Mac or Linux distribution. Fair enough!
Microsoft To-Do is the winner as the best to do list app for me!
I have tried some candidates like AnyDo, Todoist, TickTick… but they're feature-over-killed for me and partially-free, unlike Microsoft To-Do.
What about some alternatives like Asana, Trello…?
Eh oh! It's an absolutely no. They're team-focus management services, don't fit for personal task management.
Overall, I think I'm good with Microsoft To-Do at the moment. I've been trying it for months and feel pretty much happy using it.
It's simple, it does the job well, very focus.
If you're looking for a personal task management app, try Microsoft To-Do. It might be your winner!